How to Pay Your Bill
Navigating Nelnet
To access Nelnet, you can go to your my.moody.edu Student Center and click the Nelnet link (or click here: https://mycollegepaymentplan.com/moody-bible-institute).
You will need to create an account the first time you access this link.
Once you have an account in Nelnet, you can view your bill, make payments, set up a payment plan, set up a refund method, and grant authorized parties access to your account.
Payment Plan Adjustments
When you receive email notice of an adjustment on your bill, log in to your Payment Plan. The amount in the yellow box should match the amount in the email. Click "Actions," then "Adjust Balance" and all your installment amounts will increase/decrease by the correct amount.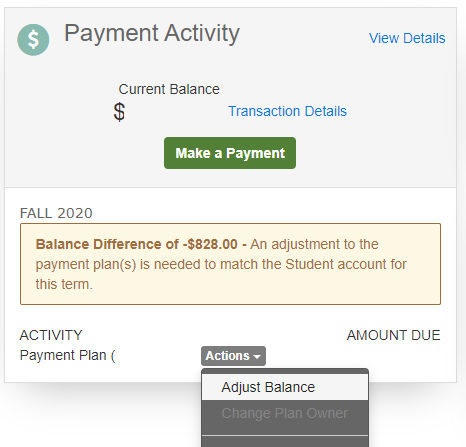 Reading Transaction Details
The activity reads by term from top to bottom. The oldest charges will be at the top, and the newer will be at the bottom. A charge that has been cleared will not disappear; a new line will appear further down for the same amount in credit.